Join The Revolution!
Coldstore Specifier from Computair is revolutionising the way walk in coldstores are quoted for, designed and purchased.
Can your business afford to be left behind?

Computair Ltd are the world's leading supplier of design software for walk-in coldrooms. Founded in 1980 to write bespoke technical software for the air movement and refrigeration industries, we now provide industry leading software solutions for manufacturers and dealers of walk-in coldrooms and cold stores.
With over 30 years experience in the food service manufacturing industry, our personnel are well aware of the pitfalls and requirements associated with specifying, manufacturing and constructing coldstores. With this knowledge, Computair have developed 'Coldstore Specifier', a programme that is simple to use, automated, accurate and efficient. 'Coldstore Specifier' will create an industry standard process of manufacturer to dealer/sales representative coldstore specifying.
Designed to speed up those important quotation response times and subsequent manufacturing lead times. The Computair 'Coldstore Specifier' is available in three distinct product offerings:
For Manufacturers of Walk-In Cold Rooms and Cold Stores

This is a bespoke software package aimed at manufacturers of walk-in coolers and freezers, coldrooms, refrigerated warehouses, environmental walk-in rooms and related products in the food service and scientific refrigeration industries. The software is closely tailored to the specific product offering and manufacturing business requirements of your company. It has been designed to speed up customer response times, remove drafting bottle necks and reduce the risk of design and component specification inaccuracies.
For Independent Constructors of Walk-In Cold Rooms and Cold Stores
For the Independent Constructor, a self maintained package that enables coldrooms to be designed and costed whilst utilising the panel supplier of your choice. The software can be tailored to suit your own individual mode of operation.
For Dealers And Sales Representatives Of Walk-In Cold Rooms and Cold Stores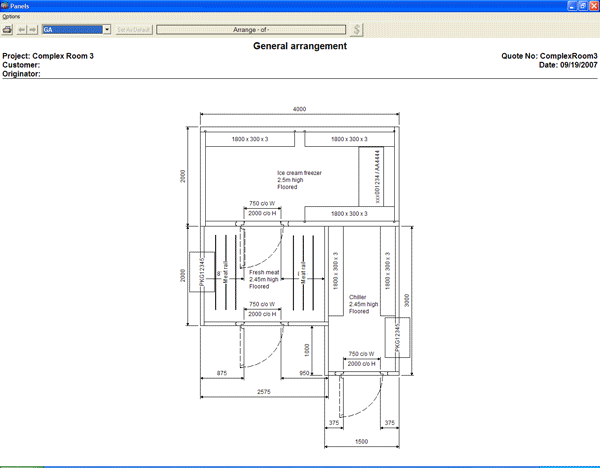 A standard coldroom design software package, designed to provide clear and concise requirements in the form of a tender document complete with plan and elevation sketches to the manufacturer of your choice. 'Coldstore-Specifier' collates all the manufacturer supplied information and formats a quotation document for you to send to your customer.
>Click here for further information
Coldstore Specifier For Dealers And Reps is now available for you to try for free for a limited period before you buy.